Wireless Network Video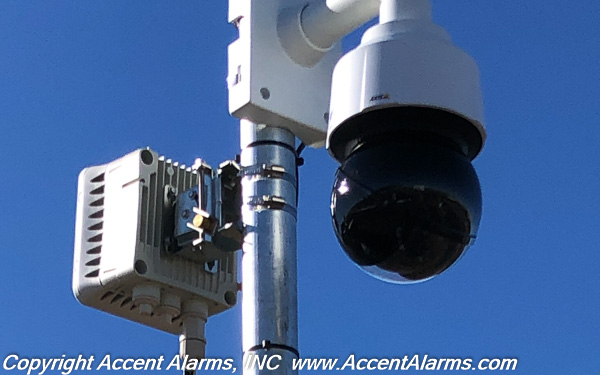 Accent Alarms has designed, installed and maintained wireless systems in one of most challenging environments possible over the past 20 years. We have wireless networks with point-to-point, point-to-multi point and mesh networks. Accent Alarms also has first hand experience with the challenges of the constantly changing sub-6 GHz spectrum and the rapid changes that those products undergo. Interference from a new or just a frequency shift on a Wireless Access Point, new LED signage, new wireless link, or any other device in the unlicensed and widely used sub-6 frequency range. Due to these challenges we have moved to mmWave technology for many of our solutions.
We can NOT emphasize enough that when it comes to transmitting and receiving the large amounts of data that network security cameras provide most wireless products will NOT provide you with a workable solution. We see this repeatedly; a client has an existing WiFi link rates at some astronomical data rate but then either does not work or works intermittently.
Siklu products operate in the virtually interference free 60GHz-70GHz/80GHz frequency bands. This large swath of available frequency stems from the fact that there is over 24Ghz of available spectrum in these bands coupled with extremely narrow beams yields almost unlimited spectrum. Siklu's technology brings scalability, multi-gigabit capacity and reliability to the world of wireless networks, and they are dedicated to delivering great value through fast-and-easy-to-deploy solutions that deliver flawless, predictable performance.
Dubbed the "wireless fiber" tranceiver or "wireless bulldozer" Siklu has been providing PoE-based point/multipoint wireless multi-gigabit throughput over 60/70/80GHz millimeter waver transmission. In recent years, Siklu tranmitted "Overwatch" video surveillance during a Super Bowl LIVE even in Houston, an NFL fan fest with 1.5 million attendees. In fact, the transmission of thermal imaging of a medical emergency in a crowd of 10,000 concert attendees has made Siklu a go-to technology for extending fiber optic cable wirelessly.
Cisco (formerly Fluidmesh)
Fluidmesh Networks is provide wireless systems for security, industrial, and mission-critical applications. Its range of solutions covers point-to-point, point-to-multi-point, and mesh networks with an unparalleled level of reliability, flexibility, and ease of use. The company is focused on the development of top-quality wireless products for security, video-surveillance, condition monitoring and data communication in large areas at risk. Fluidmesh Networks' target markets are municipalities, industrial plants, schools, seaports and marinas, archaeological sites, resorts, theme parks and racing tracks.
Watch the video of a system we upgraded to Fluidmesh, the orginal installer was supposed to be an expert within the wireless field. We will let you decide for yourself.