Colorado Services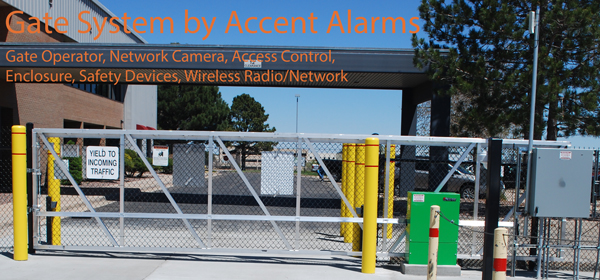 Accent Alarms (learn about us) provides industrial and commercial electronic security systems and services that primarily include network video surveillance systems, automated vehicle gates, turnstiles, and access control (card reader) systems throughout the Colorado Front Range region. We excel at providing end-to-end solutions, especially when you need a quality, long term solution involving automated gates, access control and network video/cameras.
Industrial & Commercial Security Solutions
Video Surveillance/Security Camera Systems
Card Entry ~ Electronic Access Control
Vehicle Security Gates ~ Slide, Swing & Tilt Gates (Click here to learn more )
Wireless Systems ~ Point-to-Point, Mesh, and Point-to-Multi-point. (Click to learn more re: Wireless that works)
Pedestrian Security Turnstiles
System Integration
Inspection & Maintenance Programs
Automatic/Electric Gate Service & Repair
Experience
Clients have depended on Accent Alarms for twenty plus years of in industry and practical hands on experience to provide quality and integrity to the security industry. Whether you are a Fortune 500 company or an ambitious start-up, we can help protect the people and assets that are most important to you.
See the Evidence
Take a few minutes to look at some of the jobs we've completed. Click the Evidence tab, under the local services drop-down or
click here
Please call or email us [email protected] with any question you might have.