Milestone Systems starts shipping a new series of high-performing Husky Network Video Recorders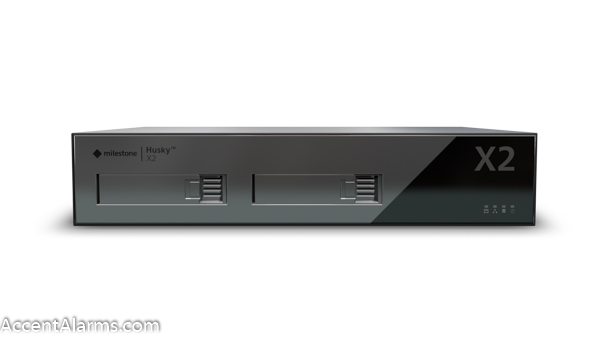 9 January 2019
The Milestone Husky X series is a range of flexible network video recorders that unlocks the full potential of Milestone XProtect® video management software.

Copenhagen, December 11, 2018.The Milestone Husky X series is designed to unlock the full potential of Milestone's XProtect video management software (VMS), offering remarkable performance and low total cost of ownership. All NVRs in the Milestone Husky X series utilize hardware accelerated video decoding for server-side motion detection to further increase performance and camera capacity – all that in hardware that is customizable and can be matched to specific functional, operational and budgetary requirements.

Built to perform
The Milestone Husky X2 is a plug-n-play network video recorder with a built-in PoE switch and input/output panel. With a verified continuous recording rate, it provides the power and scalability required in most small to mid-market surveillance installations. The Milestone Husky X2 comes with pre-loaded
XProtect Essential+
VMS, allowing everyone to start right and be able to scale up their license according to need.
The Milestone Husky X8 is a high-performing network video recorder for the high-end market, offering remarkable performance and reliability with component, storage and application redundancy, ensuring continuous uninterrupted operation. Leveraging the XProtect video management software, hardware-accelerated video processing and Western Digital Purple™ HDD technology, the unit offers a proven capacity of more than 300 cameras with server-side motion detection.
"Scalability and reliability are two of the main criteria selecting hardware infrastructure for a security system. The Husky X2 and X8 units deliver on both these points through their dedicated design and high build quality. And thanks to the use of hardware-accelerated video decoding the Husky X series NVRs offer the market's highest performance, reducing both the initial and operational costs," says CTO Bjørn Skou Eilertsen, Milestone Systems, who continues:
"The new Husky X series is an important complement to our ambitious System Builder program where we work with some of the market's leading and most-recognized hardware vendors to offer servers, storage and workstations pre-installed with Milestone XProtect VMS software."
With higher performance, greater flexibility and scalability, the new Husky X series will replace Milestone Systems' existing Husky M series of NVRs. By June 30, 2019, after five successful years in the market, Milestone Systems will terminate the production of Husky M series. This includes Husky M20, Husky M50, Husky M500 Advanced and Husky M550 Advanced.
About Milestone Systems
Milestone Systems is a global industry leader in open platform IP video management software, founded in 1998 and now operating as a stand-alone company in the Canon Group. Milestone technology is easy to manage, reliable and proven in thousands of customer installations, providing flexible choices in network hardware and integrations with other systems. Sold through partners in more than 100 countries, Milestone solutions help organizations to manage risks, protect people and assets, optimize processes and reduce costs. For more information, see the corporate site :
www.milestonesys.com
. For news and viewpoints from the Milestone community, visit The Milestone Post. Click
here
to read more on trademarks.
Accent Alarms is a Milestone Systems Gold partner and you can purchase or learn more about the Husky X2 on our website.