Siklu Awarded 2018 Technology Partner Program "Partner of the Year" by Axis Communications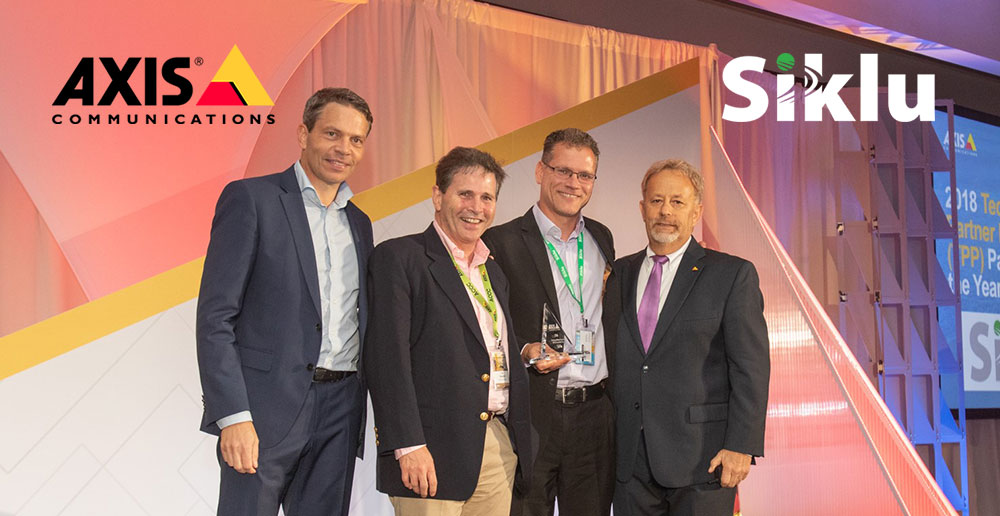 9 January 2019
Fort Lee, New Jersey – November 14, 2018–Siklu Inc., the global market leader in mmWave wireless solutions was named 2018 Technology Partner Program Partner of the Year by Axis Communications at its 13thannual Axis Connect & Converge Conference (ACCC) held in Fort Lauderdale, FL. Axis Communications, the market leader in network video, presented these annual awards to top channel, software and technology partners.
Siklu received this honor for its exemplary success and loyalty, delivering innovative solutions to meet customer needs. As video surveillance expands into public domains, the need for high speed connectivity to the cameras becomes critical. With Siklu's mmWave products able to support 1Gbps and more, these systems are ideal for connecting cameras wherever they may be. Siklu has worked with over 150 cities around the world who have deployed mmWave equipment in connecting thousands of Axis cameras streaming video surveillance. Examples include networks in the Village of Hodgkins, IL, Houston, TX and the City of Gardena, CA.
"We are proud to have been chosen for this award, reflecting our deep commitment to Axis and the role of mmWave in Smart Cities." stated Eyal Assa, CEO of Siklu. "Working side by side Axis and Siklu are leading the way extending the reach of fiber wirelessly and seamlessly building reliable, robust video surveillance networks anywhere, any time."
"On behalf of Axis Communications, I'd like to congratulate Siklu on receiving this award. It truly shows their commitment and dedication to creating a smarter, safer world," said Scott Dunn, Senior Director, Business Development Solutions & Services, Axis Communications, Inc. "Every year we look forward to ACCC because it's an event where we get to gather and celebrate the successes of Axis' thriving partner ecosystem."
Axis works with more than 90,000 partners across 179 countries at every stage. Axis' partner network includes the Channel Partner Program, the Application Development Partner Program, the Architecture and Engineering Program and the Technology Partner Program. For more information about Axis' partner network, visit http://www.axis.com/us/en/partners.
About Siklu
Siklu delivers multi-gigabit wireless fiber connectivity in urban, suburban and rural areas. Operating in the secure mmWave bands, Siklu's wireless solutions are used by leading service providers and system integrators to provide 5G Gigabit Wireless Access services. Easily installed on street-fixtures or rooftops, Siklu solutions are also ideal for Smart City projects requiring extra capacity such as video security, WiFi backhaul, and municipal network connectivity all over one network. Thousands of carrier-grade systems worldwide are delivering fast interference-free performance and benefiting a true comprehensive end-to-end solution from planning to deployment.
Accent Alarms proudly uses both Axis and Siklu as our primary solutions providers.