Security Camera DIY Drilling or Mounting to Metal Siding

Safety First - Step back and have a tail-gate safety meeting, even if your running solo!
It's makes good sense to evaluate the risks and how to prevent any dangerous situation.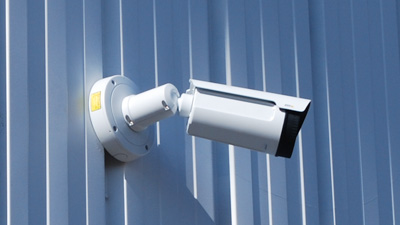 Tools/Supplies:
Safety Glasses/Googles
Drill Bit
Drill/ 1/4" Hex Impact Driver
Screwdriver
Sharpie/Marker
Step 1: Identify the location you desire to mount the camera. Attempt to identify the location of any obstacles.
Step 2: Mark the wall with either a pencil or marker with the mounting template. If you camera did not come with a template you can use either the camera mounting plate or camera. This depends on your camera.
Step 3: Identify the type of metal siding. Residential Siding or Commercial "Skin"
Residential Siding will have wood behind it. You can drill a small hole in the siding and use a wood screw to security your camera to the wood behind the siding.
Commercial Building will typically not have siding behind it. You will want to use self tapping screws and ensure that you do not over-tighten them resulting in stripping out the hole.
Step 4: Drill a hole large enough to feed your cable and connector through. The size of this can depend on your camera model. Some cameras the cable plugs directly into the back of the camera, others have leads that will need to be fed back into the wall cavity.
Step 5: Feed your cable through the hole and through the mounting plate if applicable.
Step 6: terminate your cable end and if applicable connect to the camera (depends on your camera model) If you have a mounting plate, you do not connect the cable to the camera yet.
Step 7: Using your screws fasten your mounting plate or camera to the wall.