Bosch AutoDome Camera System
The Bosch AutoDome Modular Camera System

While Accent Alarms sells a variety of Pan, Tilt, Zoom camera systems, the Bosch AutoDome is the brand we consider our favorite and the one we typically install. We feel that the Bosch AutoDome gives you the biggest overall bang for your money. We feel that Bosch has some of the best imaging products on the market, combine that with the thought they put into the design of their products and you have a great product.
What do I mean by "thought put into the design"?
I have installed a lot of different camera systems since I started around 1993 and the one thing that always seems to have puzzled me is why the people (probably high dollar engineers) who design these systems seem to have never attempted to install them in the field. That is until I started putting in the Bosch products. When you order a Bosch AutoDome, you get all the major components and even most of the small connectors you'll need. For example, if I order a Bosch VG4-324-ECE1R I get the AutoDome 300 Series with a 36X Day/Night PTZ Camera, EnviroDome (Outdoor Back Box), Clear Lower Dome, TCP/IP communications module, 120 VAC Power Supply, and the Roof Mount Adapter. Below is a screen shot of the Bosch AutoDome configuration tool that shows all the parts that are included when you order the Bosch AutoDome 300 Series.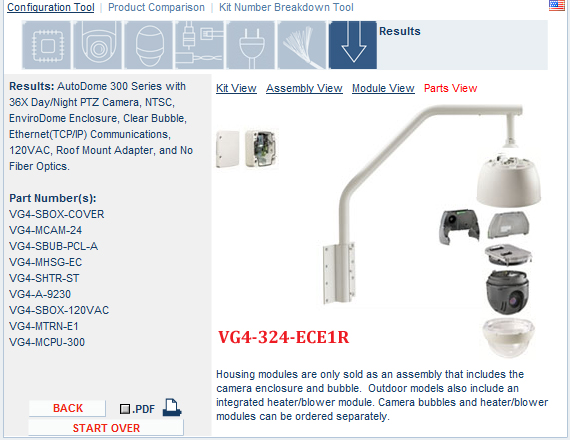 You can access the configuration tool (e.g. build your own Bosch AutoDome) at: http://www2.boschsecurity.us/autodome_tool/
To find pricing on all the Bosch products, simply type the part number in the Search Box on the top right of all our pages and you will get results similar to:
| | |
| --- | --- |
| | This is a sample of our easy to use search function. As you begin typing the part number matching products will be displayed. You can click the "search" button at anytime to display all matching results. |
Bosch AutoDome Overview
Imagine a CCTV system that never becomes obsolete. One that allows you to upgrade functionality, adapt to changing security needs and migrate to new technologies without even having to power down your system. One that features advanced intelligence capabilities for capturing the most accurate images possible, and IP functionality for the most efficient transmission and storage of those images.
This is the revolutionary concept behind the IP-enabled AutoDome Modular Camera System. With the new AutoDome, one camera and a series of interchangeable modules adapt to your changing security needs. The technology is sophisticated, but the idea couldn't be simpler.
The entire system is based on five types of interchangeable modules: the CPU, camera, housing, communications and power supply. Simply replace one of the modules to switch from fixed to PTZ, upgrade from color to day/night, or add advanced intelligence features such as motion tracking and IP communication. Never before have you been able to adapt a system as quickly or inexpensively.
| | |
| --- | --- |
| | The CPU Module determines fixed or PTZ capability as well as advanced functions such as privacy masking, motion detection and tracking. |
| | Camera Module choices include fixed or PTZ, color or Day/Night and zoom range. |
| | Housing Module options are available for any indoor or outdoor application. |
| | The Communications Module determines how video and data will be communicated to the matrix switch, DVR or IP video system. |
| | Power Supply Module options meet your site-specific installation requirements, whether indoor or outdoor, and are protected against unexpected surges in power. |
For the lastest information or for additional resources please contact us (AccentInfo@AccentAlarms.com) or visist the Bosch AutoDome site at www.AutoDome.com